Welcome to the People Managers' Guide Link's Page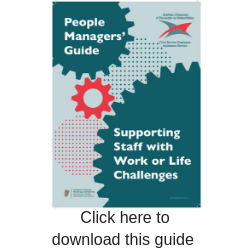 CLICK ON THE PICTURE ON THE RIGHT TO DOWNLOAD THIS GUIDE
We hope you find this guide useful in your role as a Manager.
When reading this guide you will see boxes at the end of each section containing useful links on the topic at hand. Some of the links refer to CSEAS publications while others relate to publications external to the CSEAS.
Below you will find the CSEAS links.
For ease of reference these links have been grouped by section below.
---
General
CSEAS Revised Management Referral Form – July 2020
CSEAS Management and HR Referrals Policy Revision – Jul 2020
CSEAS Confidentiality Statement
CSEAS Information Leaflet
CSEAS GDPR Statement
Meet our Team
---
Having a Difficult Workplace Conversation
Effective Communication
Conflict Resolution Skills for Managers
CSEAS as a Resource for Managers
---
Self-Care for you as a Manager
Understanding Stress
Stress Awareness
Introduction to Mindfulness
Personal Action Plan
Building Personal Resilience
---
Workplace Interpersonal Difficulties
Conflict Resolution Skills for Managers
CSEAS as a Resource for Manager
---
Dignity at Work
Conflict Resolution Skills for Managers
Effective Communication
---
Workplace Critical Incidents
Response to a Critical Incident in the Workplace
Critical Incident in the Workplace : Self-Care Information
---
Customer Engagement
Response to a Critical Incident in the Workplace
Critical Incident in the Workplace : Self-Care Information
Responding to Difficult Phone Calls & Self-Care
Suicidal Distress – Resource List for HR Division/Line Managers
---
Dealing with Stress
Stress Awareness
Personal Action Plan
Building Personal Resilience
Understanding Stress
Webcast on Stress Awareness and Management
Reducing Stress in your Life
---
Bereavement and Loss
Bereavement – Coping with Grief and Loss
Helping the Bereaved at Work
Personal Affairs Checklist
Death in Service
---
When a Work Colleague Dies
Bereavement – Coping with Grief and Loss
Helping the Bereaved at Work
Responding to a Staff Member in Suicidal Distress
Suicidal Distress – Resources for HR Divisions/Line Managers
Death in Service
---
Supporting a Staff Member who is in Suicidal Distress
Information for those affected by Suicide
Information for those in Suicidal Distress
Responding to a Staff Member in Suicidal Distress
Suicidal Distress – Resource List for HR Divisions/Line Managers
---
Alcohol/Drug Misuse
Substance Misuse & Addiction
Effective Communication
Anger Management
---
Gambling Problems, Gaming Addiction and Internet Misuse
Effective Communication
Information Guide on Mental Health & Well-being in the Workplace
Anger Management
---
Health Issues
Good Mental Health in the Workplace
CSEAS as a Resource for Manager
Information Guide on Mental Health & Well-being in the Workplace
---
Mental Health
Good Mental Health in the Workplace
Information Guide on Mental Health & Well-being in the Workplace
Understanding Stress
Stress Awareness
---
Financial Issues
Managing your Money: Budgeting Information and Assistance
---
Personal Hygiene Issues
Personal Hygiene
Effective Communication
---
Life Stages
Planning for Retirement, How the CSEAS Can Help
Personal Affairs Checklist
---