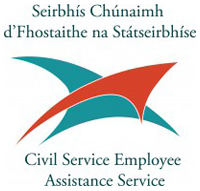 The Civil Service Employee Assistance Service (CSEAS) provides an internal Employee Assistance Programme to Civil Service staff. Centralised within the Department of Public Expenditure and Reform, the CSEAS operates as an interdepartmental shared service on a regionalised basis.
The Service is a work-based professional service which is designed to assist employees manage/resolve work-related and personal difficulties which, if left unattended may adversely affect attendance, work performance and quality of life.
The Civil Service recognises its staff as a valuable resource. It aims to build and maintain a resilient workforce to deliver effective services by raising awareness of, and promoting, good mental health in the workplace.

Key features of the CSEAS are:

Problem assessment and help in planning a structured approach in coping with, managing and resolving issues of concern
Support and Referral service for staff
Advisory service for managers/supervisors
Information Resource
Proactive initiatives in the area of staff wellbeing

Confidentiality

The CSEAS is a centralised shared service. Confidentiality is between the client and the CSEAS. Information and personal data disclosed by employees to the CSEAS remain confidential (exceptions are listed below) and will not be disclosed to a third party outside of the CSEAS without the prior knowledge and consent of the individual.

This is in keeping with normal professional standards in relation to confidentiality.

Referrals

A staff member can self refer to the CSEAS by contacting the service directly.

As of May 25th 2018, the CSEAS is committed to GDPR compliance. As such, the CSEAS will accept Management Referrals from HR divisions or Line Managers in the following situations only: where there is a risk to life e.g. suicidal intent or where the referral has been recommended by the Office of the Chief Medical Officer (CMO)

It is in your interest to avail of the support of the CSEAS as it provides you with an opportunity to discuss matters confidentially, which might have a bearing on your circumstances.

Where you have been referred by HR Division, line management or the Chief Medical Officer, confirmation of your attendance/engagement will be given to the referring party and any proposed feedback or progress reports will be agreed with you. Should you choose not to avail of the support of the CSEAS, this will be relayed to the person who referred you.

Exceptions to Confidentiality

Life-threatening situations to the individual, other parties or the public;
Where there is a statutory responsibility to report;
Where required by a court or legal process to do so;
Where non-disclosure of information could compromise the CSEAS;
Where the CSEAS becomes aware of a breach in criminal law, disclosure may be necessary