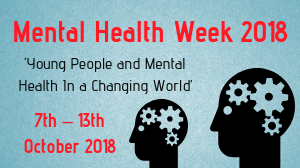 World Mental Health Day, 10th October, is recognised worldwide every year. The World Federation for Mental Health's theme for World Mental Health Day is "Young People and Mental Health In a Changing World"
Mental Health Ireland organises a number of events nationally during the week of the 7th – 13th October through mental health associations to promote mental well-being.
Kicking the week off, Mental Health Ireland are hosting a 5000 Steps to Wellbeing Walk in UCD on Sunday the 7th of October. At this walk you'll be able to learn about the Five Ways to Wellbeing too!
These Five Ways to Wellbeing encourage everyone to become aware of their wellbeing by following five simple steps. Including Connecting with others, being Active on a daily basis, Taking Notice of what's happening around you, to Keep Learning and to Give back to your community, friends or family.
Full details are available on the Mental Health Ireland website.
Good mental health and well-being is something we all strive for. It allows us to live a balanced life, enjoy meaningful relationships, pursue interests and hobbies, engage with society and work in a constructive manner. It is our responsibility to mind our mental health in the same way as we do our physical health.
Many people find that talking to others helps them to maintain their mental health. When issues arise, support can come from family, friends, colleagues and others. Professional help can be sought from a doctor, psychotherapist, counsellor or psychologist.
This week is a great opportunity for individuals, workplaces and communities to bring awareness to and highlight mental health and wellbeing where you work, rest and play.
_________________________________________
Mental Health and Well-being in the Workplace
The CSEAS is committed to the promotion of mental health and wellbeing in the workplace. We offer support on a range of concerns, work related and personal. If you are finding life challenging, you might like to consider contacting the CSEAS for an appointment to get help in addressing issues such as interpersonal difficulties, pressure and balance at work, stress, health concerns, family and marital issues, financial matters, substance abuse, eating disorders, and bereavement.
You can view the CSEAS Powerpoint presentation on Positive Mental Health, please click here
The following are some CSEAS publications, you may find useful:
Information Guide on Mental Health
Good Mental Health in the Workplace
Suicide-Information for those in suicidal distress
Suicide-Information for those affected by suicide
Responding to a Staff Member in Suicidal Distress
Suicidal Distress Resource List
Contact Details:
The Civil Service Employee Assistance Service (CSEAS)
Central Phone Number 0761 000 030
E-mail cseas@per.gov.ie
For contact details for individual (or regional) Employee Assistance Officers, please click here
Please feel free to browse the rest of our website.
_________________________________________
Other Useful Links
Pieta House 'Preventing Suicide and Self Harm' – Phone 1800 247 247 – www.pieta.ie
Mental Health Ireland 'Your Mental Wellbeing'
The Samaritans Call 116 123
Health Service Executive Your Mental Health
World Health Organisation (WHO)'World Health Organisation'
World Federation for Mental Health – 'World Federation for Mental Health'
Irish Hospice Foundation Think Ahead
World Mental Health Day 10th October / Lá Domhanda na Meabhairshláinte 10ú Deireadh Fómhair